Oily skin comes with several associated concerns such as breakouts, acne, and blackheads, and deserves special attention. Oily skin has overactive sebaceous glands. which produces excess sebum – a natural oil that hydrates the skin. When mixed with dirt, impurities, and germs, it can clog your pores leading to acne and various other skin problems. Since cleansing is an essential part of the skincare routine, your oily skin will need a special soap for Oily Skin, it should cleanse your body while maintaining the skin's oil and pH balance. Here are the 6 Best natural Soaps For Oily Skin In India that cleanse your body while keeping you acne-free.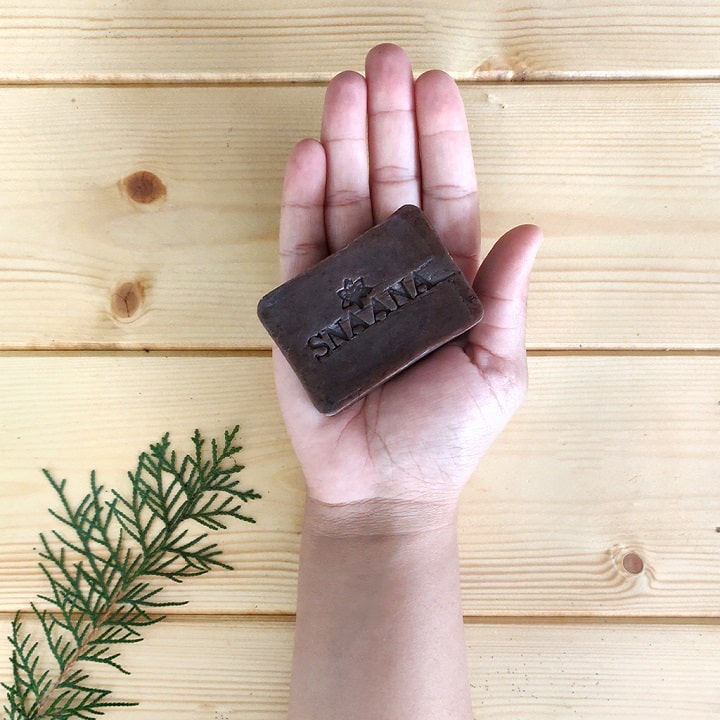 1. Goat Milk Soap – Charcoal Soap with White Willow Bark Soap for Oily Skin
What it is:- Best natural salicylic face & body cleanser for oily & acne pimple-prone skin. The AHA & BHA rich soap help prevent breakouts, reduce blemishes & improve skin appearance.
Benefits:-
Best gentle and healthy oily & acne-pimple face cleanser
Reduces cystic & non-cystic acne and pimples drastically
Balances the skin microbiome and keeps it healthy
Lightens acne pimple scars/marks & improves the skin's appearance
100% Natural – handmade with traditional techniques
Made for Adult oily skin with skin vital essentials needed at this age.
No chemicals & No preservatives at all
Suitable for:- Regular face & body cleanser for oily, acne-pimple-prone skin conditions in the '30s and beyond. Avoid using during pregnancy & breastfeeding Tonic for:- Hormonal imbalance caused severe to occasional cystic & non-cystic acne pimples, inflammation & redness, whiteheads & blackheads
₹266.00
2. Himalaya Herbals Neem & Turmeric Soap for Oily Skin
Indian grandmothers have relied on neem and turmeric to treat acne and other skin problems. Himalaya Herbals brings these healing ingredients in its soaps to give you a more refreshing bathing experience. Each pack contains four soaps. Enriched with a natural blend of Neem and Turmeric. Neem oil cleanses and purifies the skin, while turmeric contains anti-inflammatory agents that protect and soothe the skin. Lemon improves skin tone by reducing dark marks.
Key Ingredients: Neem, Lemon, and Turmeric
Pros:
organic
anti-inflammatory
antibacterial soap
relieves dryness
fresh scent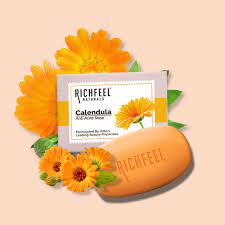 3. Richfeel Naturals Calendula Anti Acne Soap for Oily Skin
Richfeel Naturals Anti-Acne Soap contains the antibacterial properties of Calendula. Deep Cleansing Soap removes dirt and impurities from the skin while controlling sebum production for an oil-free, toned appearance, Calendula fights acne with its therapeutic and anti-inflammatory properties, leaving the face with a youthful glow.
Main Ingredients: Calendula
Pros:
antibacterial formula
prevents acne
heals skin inflammation
removes impurities
reduces sebum production
fresh scent
4. Ancient Life Daily Bathing Necessities
Ancient Living Daily Bath Needs brings to you a blended set of three handmade soaps – Tulsi, Multani Mitti, and Kasturi Haldi – free from chemicals and toxins. Tulsi soap purifies the skin and keeps germs away, while Multani Mitti reduces fine lines and wrinkles to give you younger-looking skin. Kasturi Haldi Cleanser reduces ingrown and facial hair and provides a fair complexion. These soaps are nourished with a blend of essential oils, Vitamin E, and natural herbs that harmonize body, mind, and spirit. The soap is therapeutic and gives a fresh, youthful glow to the skin.
Key Ingredients: Multani Mitti, Tulsi, and Kasturi Haldi
Pros:
handmade
moisturizing soap
lather well
Synthetic Color-Free
Synthetic Fragrance-Free
cruelty-free
Vegetarian
5. Sebamed Cleansing Bar
SebaMed Cleansing Bar is a soap-free formula for normal to oily skin, it unclogs pores and removes excess oil, reducing pimples, blackheads, and other breakouts. Natural moisturizers like lecithin, vitamins, and amino acids in this formula help to rebalance stressed skin. Vitamin E protects the skin from free radical damage, while squalane maintains the skin's moisture balance This medicated soap is also ideal for those with rosacea and seborrheic dermatitis.
Main Ingredients: Vitamin E, Amino Acids, and Panthenol
Pros:
soap-free formula
Fights pimples and blackheads
remove excess sebum
dermatologically tested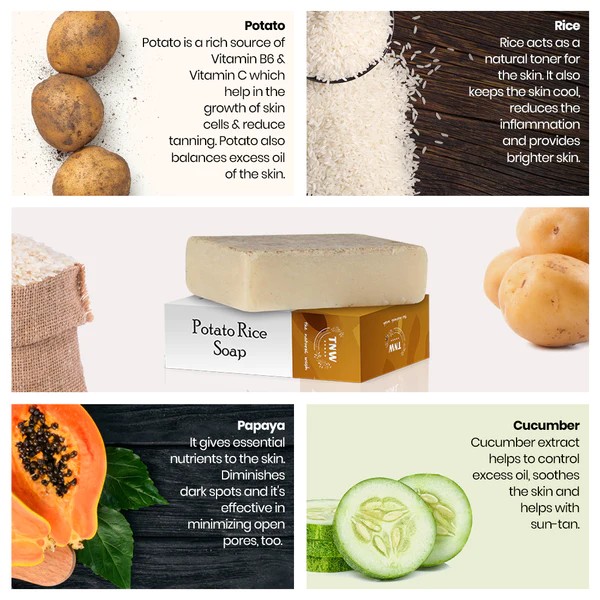 6. TNW- The Natural Wash Potato Rice Soap for Oily Skin
TNW Handmade Soap is specially blended to reduce tanning and pigmentation. It minimizes open pores by cleansing the impurities and sebum. The formula is formulated with potato, rice, cucumber, and papaya that work together to reduce dark spots and inflammation. Its vitamin-rich Ayurvedic formula gives you a radiant, youthful skin tone. Rice is a natural toner and glycerin and cucumber help in maintaining the pH balance of the skin. Potato and rice keep the face hydrated and moisturized and offer to heal.
Main Ingredients: Potato, Rice, Glycerin, and Cucumber
Pros:
handmade soap
moisturizing formula
reduces tanning
paraben free
sulfate free
dye free
silicone free